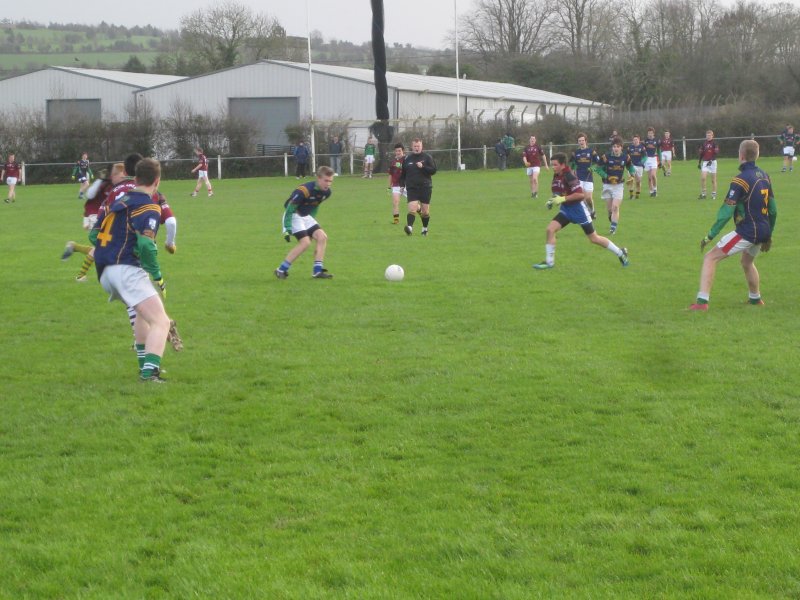 Our U16 footballers played Colaiste Mhuire, Johnstown in the South Leinster semi-final on Thursday 9th December.  They got off to a good start with powerful defending by Brian Phelan. Paul Kirwan received a free but with the strong winds it went wide. There was another attempt at a point by Patrick Butler but it failed to go over the bar. The match continued with good play by Dylan Halligan and Ronan Coffey which led to a point by Mark Ryan. There was good team work from Brian and Ronan with Paul Kirwan strongly fighting for the ball which paid off with a point from Ray Cody. Luke Donnelly came on to replace Conor Frisby. At the end of the first half Scoil Aireagail were down 1 point. No. 5 on the opposing team was very strong and there was great defense from No.6. Shaun Donnelly replaced Darren Audoire. Johnstown put up a good fight and scored 2 goals but Ballyhale kept up their good tackling. A skilful point by Mikey Jones was scored but unfortunately it wasn't enough to beat Johnstown who then scored another goal to win the match.
Panel: Aaron Doherty, Conor O'Dwyer, Eugene Aylward, Mikey Jones, Ronan Coffey, Brian Phelan, Darren Audoire, Ronan Corcoran, Dylan Halligan, ay Cody, Kevin Farrell, Patrick Butler, Conor Frisby, Paul Kirwan, Mark Ryan.
Subs: Brian Farrell, Stephen Mackay, Mark Phelan, Luke Donnelly, Shaun Donnelly, Conor Frisby.
Managers: John O ' Halloran, Ronan Murphy