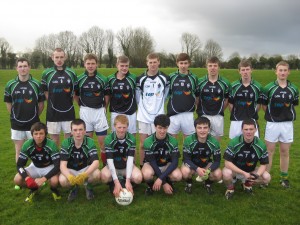 Scoil Aireagail Ballyhale 1-12 Ramsgrange Community School 0-4
Scoil Aireagail Ballyhale has qualified for the South Leinster Senior Football Final after an impressive 11 point win over Ramsgrange Community School.
Aided by a slight breeze Scoil Aireagail got off to the perfect start, when Brian Phelan caught the throw-in and his first time delivery allowed Ronan Coffey to open his account with a fine point from an acute angle. Scoil Aireagail continued to press home their early advantage but wasted scoring opportunities meant that by the 12th minute only a Ronan Corcoran point was added to the scoreboard. Liam Glynn from Ramsgrange did threaten the Ballyhale goal but his two efforts went narrowly wide of Darren Watter's upright.
In the 17th minute a rasping shot from Scoil Aireagail's Colm Phelan hit the underside of the crossbar and was cleared to safety by the impressive fullback John Furlong. Further points from Ray Cody 20 (min) and Roan Coffey (21st min) extended Scoil Aireagail's lead to 4 points.
A lapse in concentration in the Ballyhale defence did allow Ramsgrange to counter attack and the industrious David Forde playing at centre forward halved the Ballyhale lead with 2 well taken frees. Even though both teams threatened each other's defence, neither could add to their scores and the half time score was
Scoil Aireagail 0-4 Ramsgrange 0-2
The second half started very evenly with both sides trading early points. Brian Phelan and Patrick Delaney began to dominate the middle of the field with both players providing excellent scoring opportunities to the inside forwards of Kevin Farrell and Aaron Roche. Two further pointed frees from Colin Phelan extended Scoil Aireagail's lead. The turning point in the game came when a perfectly executed pass from Michael Jones found Aaron Roche on the edge of the square and he coolly slotted the ball past James Kavanagh in the Ramsgrange net.
Brian Phelan added a further point and extra points from Colm Phelan, Kevin Farrell (2) and Andrew Fitzpatrick saw the South Kilkenny school qualify for the Final against either Piperhill College Naas or Avondale Community College. On this showing Scoil Aireagail have a good chance of qualifying for the penultimate stages of the Leinster Championship.
Scoil Aireagail Team:
Darren Watters (Mullinavat), Dylan Halligan (Carraigshock), Eugene Alyward, (Shamrocks),
Aaron Doherty (Dunamaggin), Michael Jones (Mullinavat) Andrew Fitzpatrick (Dunamaggin)
Patrick Delaney (Dunamaggin) Brian Phelan (Mullinavat) Paul Kirwan (Dunamaggin) Ronan Coffey (Dunamaggin), Colm Phealn (Danesfort) Ronan Corcoran (Shamrocks) Ray Cody (Carraigshock) Aaron Roche (Carraigshock) Kevin Farrell (Carraigshock)