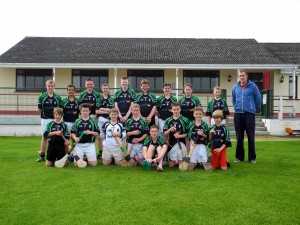 On the 27th of September we participated in an U14 hurling blitz in Palmerstown. In the first game we played against Kilkenny Schools and had an outstanding 5-7 to 0-2 win. Goals were scored by Michael Murphy, Antoine O' Shea and Luke Ward who moved up to the forwards near the end. Other scorers were Patrick Hearne and Adham Masood.
The second game was against a strong Kilkenny CBS team who had defeated St. Kierans in their first game. Again the team played extremely well  and won on a scoreline of 4-7 t0 0-3. Scorers were Michael Murphy, Paul Hennessey, Adham Masood, Jack Walsh, Mark McNamara and the score of the game came from Dean Mason who scored a terrific point from full back.
Unfortunately we were defeated by St. Kierans in the last game on a scoreline of 2-8 to 1-6. In what was a tight game the injuries picked up by Patrick Hearn and Adham Masood in previous games made things very difficult for us. Scorers in this game were Michael Murphy, Matthew Fitzpatrick and Dean Mason. The backs were again fantastic (as they were all day) with Dean Mason, Matthew Fitzpatrick and Luke Ward ably assisted by Jamie Barron, Billy Moran and James Reid. Sean Fitzpatrick made some great saves in goal and while they may not have scored Sean O' Mahony, Eoin O'Driscoll and Myko Little all contributed throughout the day.
The squad are pictured above with their manager Mr. Walsh.