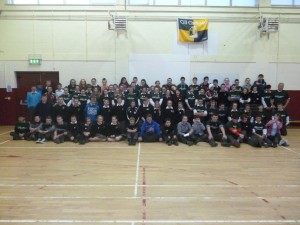 Scoil Aireagail students took part in GAeilge 24 on Wednesday, 13 November 2013. GAeilge 24 is a national event where students and young   people all over the country took on the challenge of speaking only "as Gaeilge" for 24 hours.
Ms. Murphy and Ms. Kennedy did a great job of encouraging students and teachers to get involved both inside and outside the classroom. What a success the day was at creating a great gaeilge buzz as the school was filled with gaeilge chatter.
The aim of Gaeilge 24 is to open young people's minds to using Irish in their every day lives as well as giving them a positive language experience. Students were given a  sponsorship card and asked to collect money for Ciste na Teanga for the promotion of Irish.