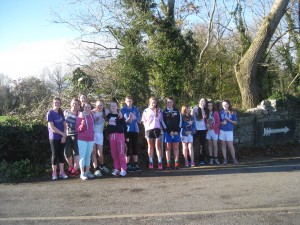 Well done to all 30 girls who participated in the 2 mile challenge over 8 weeks.Everyone made great strides and some girls took over 6 minutes off their stating time in the 8 weeks.
Congratulations to Aisling O Mahony (1st Year) who made the greatest improvement and was the overall winner closely followed in 2nd place by Dearbhla Doyle (1st Year) and  in 3rd Sinead Fitzpatrick (3rd Year).
A big word of thanks to the 6th year girls for their help every week in running the event.