Camogie players from Kilkenny's successful All-Ireland season visited the school on Tuesday, 18 October with the O'Duffy and McGrath cups. These were no ordinary players however, both won the Player of the Match award in their respective All-Ireland final matches and both are former students of Scoil Aireagail. Julianne Malone won her Player of the Match in Kilkenny's victory over Cork in the senior grade, while Keeva Fennelly scored two goals in Kilkenny's victory over the same county in the intermediate final.
The students and staff members gave the players a great welcome as they entered the school gym with the silverware. School Principal, Mr. O' Brien, welcomed them and spoke about the many factors that go into such a successful outcome, pointing out that Julianne and Keeva were excellent role models for all the students. He thanked them for coming to the school and invited them to speak. Both Julianne and Keeva encouraged the students to get involved in extra-curricular activities and continue to work to their potential in school. Julianne and Keeva then met the students and posed for many photographs.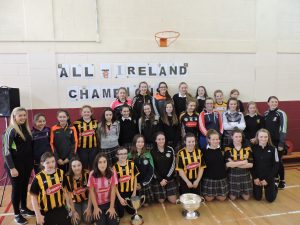 Scoil Aireagail has a proud tradition in both camogie and hurling with many students going on to represent their clubs and county with great distinction. We are committed to ensuring that this continues long into the future.