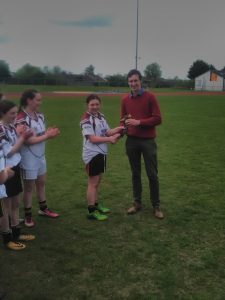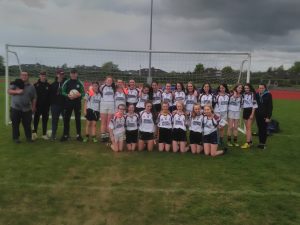 The junior girls soccer team had an outstanding victory in the final of the competition against Coláiste Pobail Osraí. Having opened the competition with a 0-0 draw with KCVS we had a comfortable win over Duiske College in the next round with a Hannah Persse hat-trick. This qualified us for a semi-final showdown with KCVS which finished 1-1 after normal time with Katie Doyle the goalscorer. Chloe Phelan was the hero in the penalty shootout scoring the winning penalty as well as saving a number of the oppositions penalties in her roll as goalkeeper.
In a tight and tense final the game finished 3-3 after normal time. Hannah Persse with two and Katie Doyle were the goalscorers. This again brought us to penalties. We again managed to secure victory in the shootout with goals from Shannon, Hannah and Katie, with victory secured with a great Chloe save. Great credit is due to all the players and the management team of Jessica Catt, Cian Cullen and Casey Corcoran.
Panel: Chloe Phelan, Grainne Barron, Nicole O Leary, Shannon Wall (Capt), Katie Dalton, Leigh Young-Holden, Erin Slattery, Monica Cotter- Dias, Nadeen Drennan, Hannah Persse, Katie Doyle, Chloe Waters, Laura Irish, Alana Holland, Emma Roche-Fortune, Therese O Connor, Grace Aylward, Maya Buijs, Codie Cass-Kennedy, Charlotte Davis.