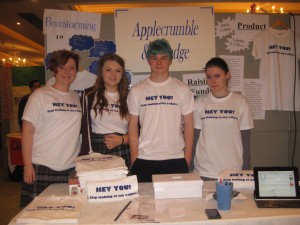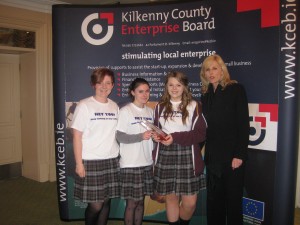 Congratulations to our Transition Year young entrepreneurs who won an award for best branding at the County Final of the Student Enterprise awards last Thursday March 7th.
The students involved were Jessica Raglia, Rachel Fitzgerals, Stacy Phelan, and Stephanie Walsh. The girls set up their company Applecrumble and Fudge last September and have worked really hard to get it established. The company sells T-Shirts with catchy slogans printed on them. They ran a competition among students to come up with a cathcy slogan and the winning slogan was printed onto t-shirts which they are now selling. The enterprise also sold hand painted signs at the Christmas market in Kilkenny.
The student enterprise awards is a fantastic opportunity for students to learn what it is really like to be your own boss – to set up and run your own business. Students get to work in a team and learn valuable life skills like organization, communication, confidence building, and hard work.