Kilkenny Carlow Education and Training Board (KCETB)

Scoil Aireagail is a KCETB school and as such is guided by the educational vision and values of KCETB as outlined below. Staff members must be cognisant of the vision and values of KCETB and endeavour to implement them in a professional manner.
Mission Statement
It is the mission of Kilkenny and Carlow ETB to be a key provider of quality, inclusive education opportunities and support services that enable young people and adults to reach their full potential and contribute in a positive and meaningful way to society.
Core Values and Principles
▪ Place the Learner at the centre of all our work
▪ Provide quality services
▪ To promote quality teaching and learning
▪ To engage in building positive, respectful relationships
▪ To value and respect all staff and learners
▪ To promote a culture of openness and fairness
▪ To promote inclusiveness and embrace diversity
▪ To be responsive in our approach and promote innovation and partnership
▪ To be an integral part of the local community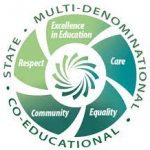 Creative Cluster Project-'Connections with our Community'
Scoil Aireagail will link together with 4 local schools to work on a creative project to bring Arts and Education together.
Over the next two years we plan to run workshops in sculpture through Lego, stop motion animation, video production and editing. Music and song writing workshops.
Our Aim will be to create a short film to showcase the creativity in our locality.
The Theme of our project is 'Connections with our Community'
Participating schools are Scoil Aireagail Ballyhale, St Beacon's Mullinavat NS, Scoil Phadraig Ballyhale NS, Duiske College Graignamanagh, and Graignamagh NS Boys Primary school.
The Creative Cluster initiative provides a range of activities and resources, including workshops, training sessions and professional development opportunities for teachers.
These activities and resources are designed to foster creativity, innovation and problem-solving skills among students, and to help teachers incorporate creativity into their everyday teaching practices.
By working with our four local schools to will allow us to collaborate and share resources to develop our students' creative and critical thinking skills.