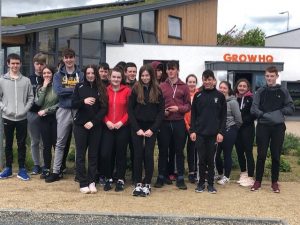 Our Transition year and 3 rd year students went on a trip to Grow HQ Waterford during the week. GIY and GROW HQ are all about helping children to develop 'food empathy' – a better understanding and appreciation of food – and to have a bit of fun while doing so! They want to help children to learn how to grow, cook and eat healthy, seasonal, nutritious food.
The students participated in a programme called 'Grow Cook' Eat where they cooked, then went out to the garden to learn about growing vegetables and fruit. Then they went back in and ate the food they had cooked.
It was a really enjoyable afternoon. Thanks to Ms. O 'Dwyer for organising it.